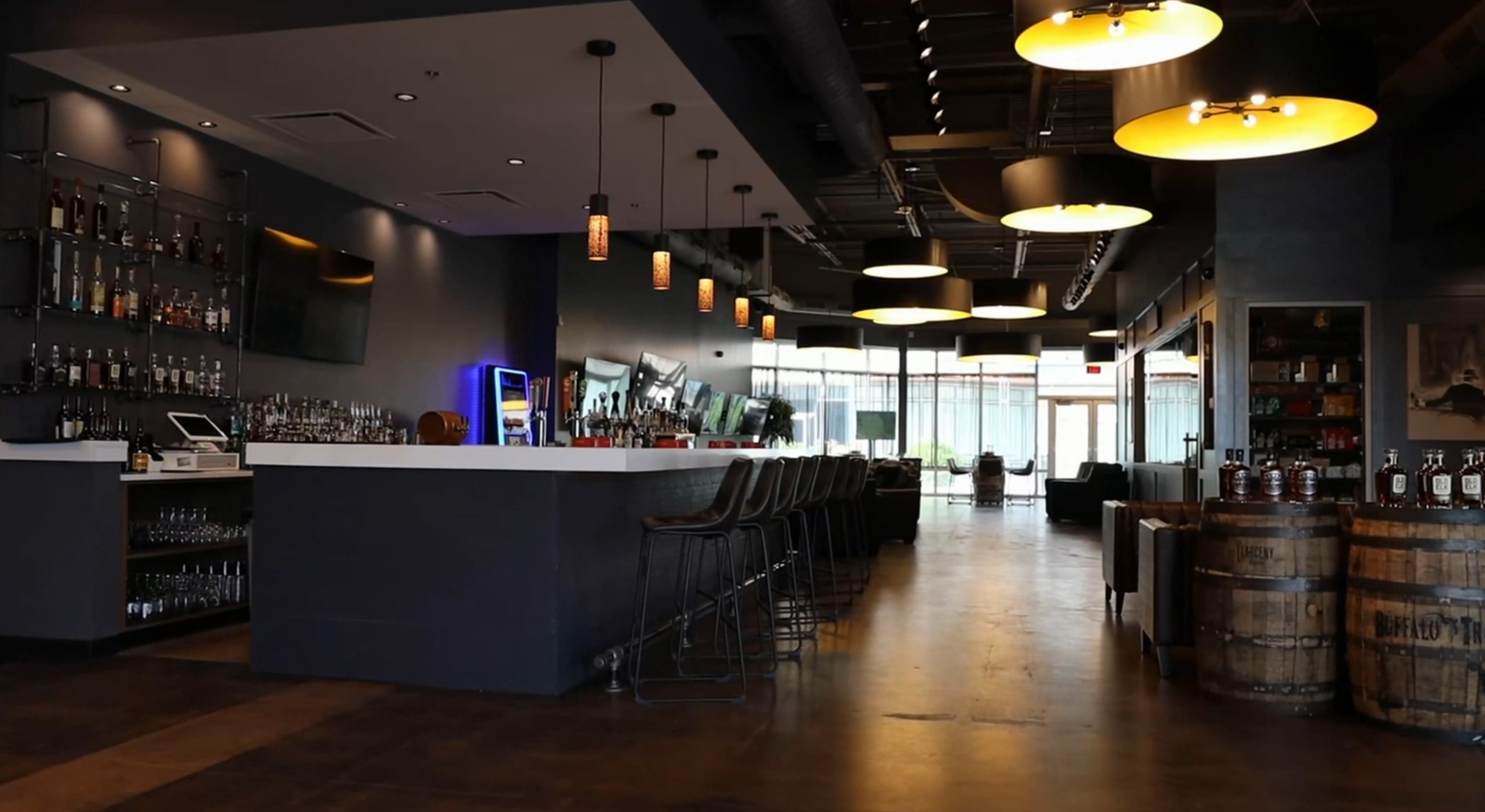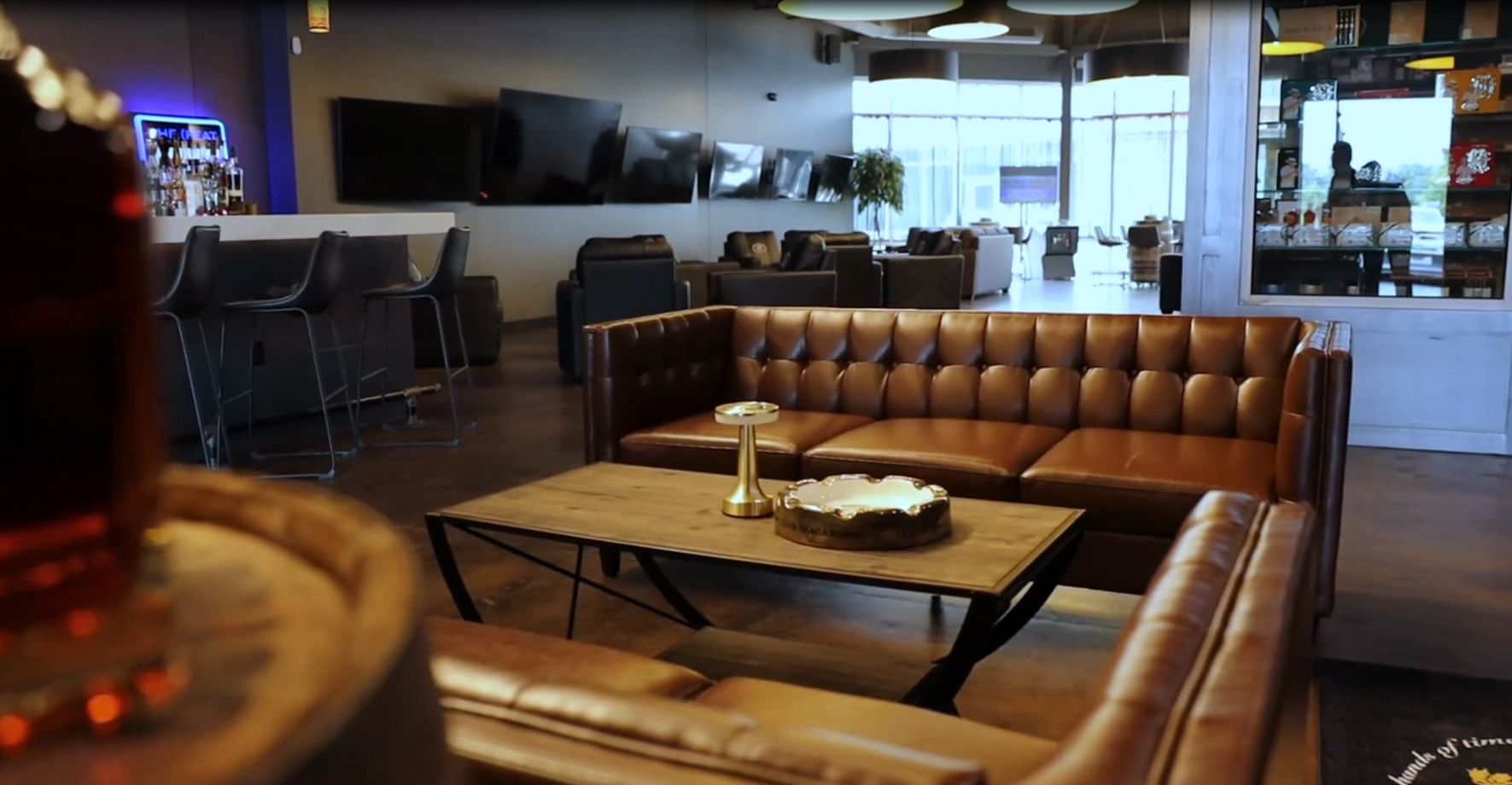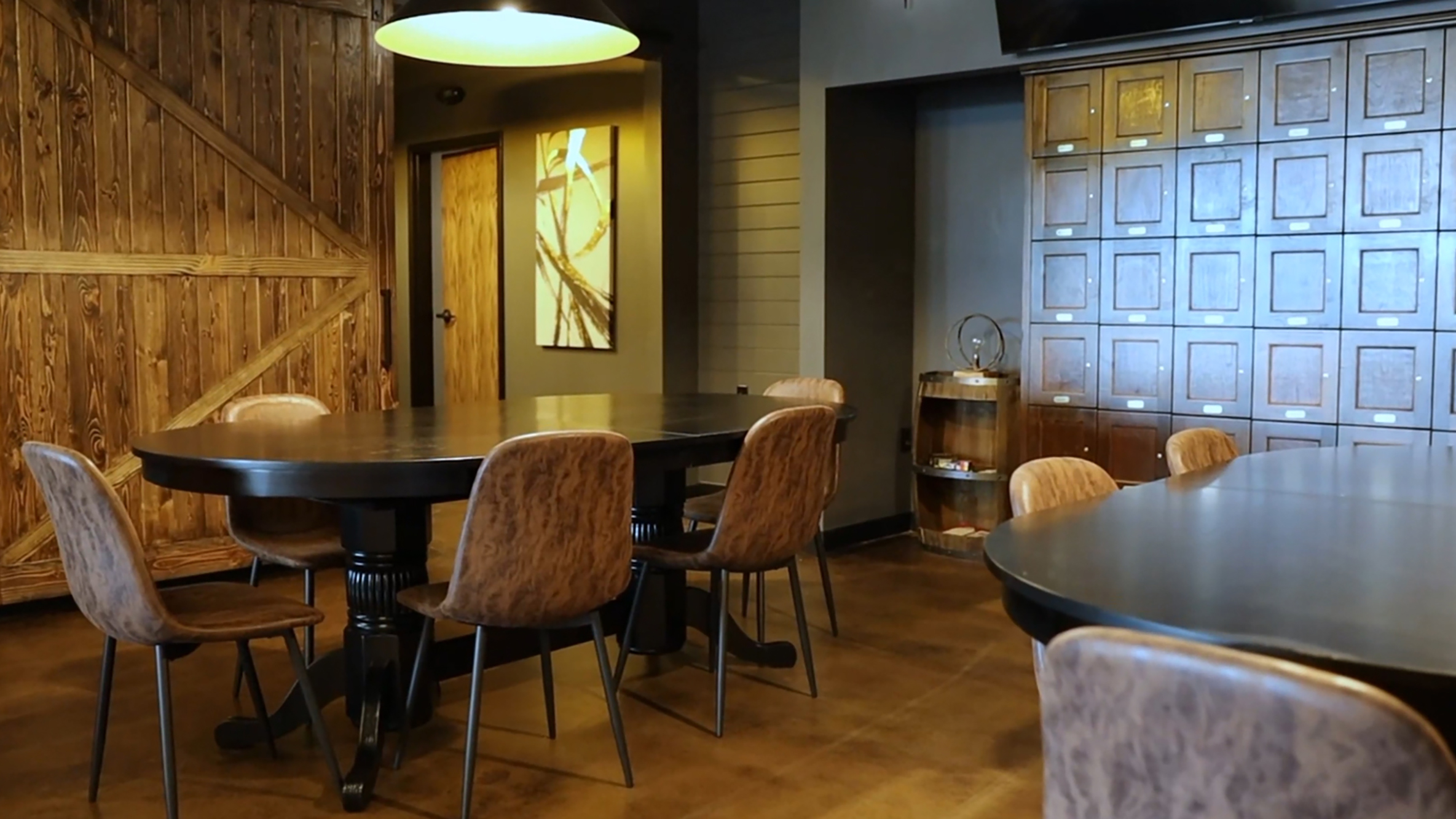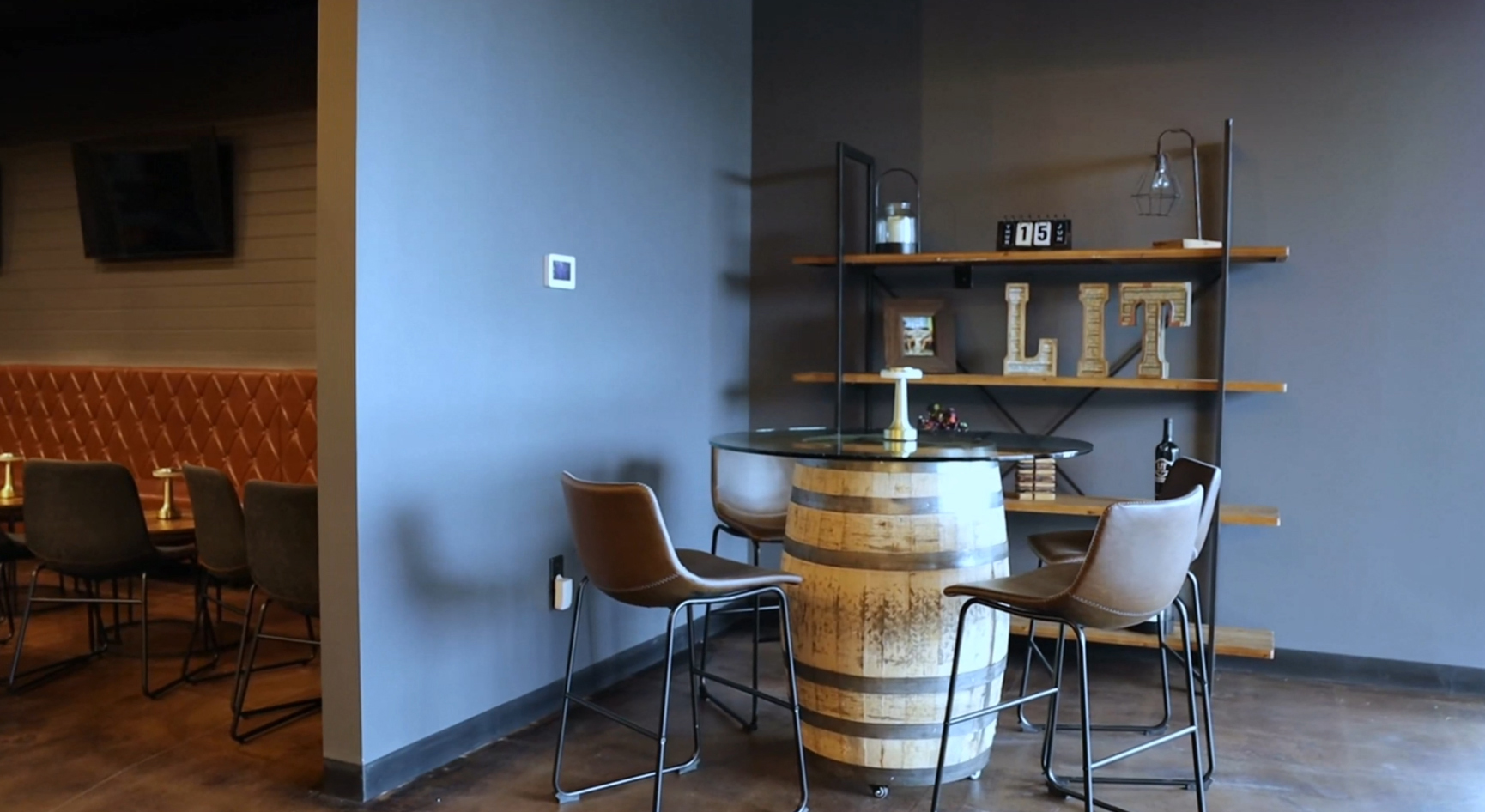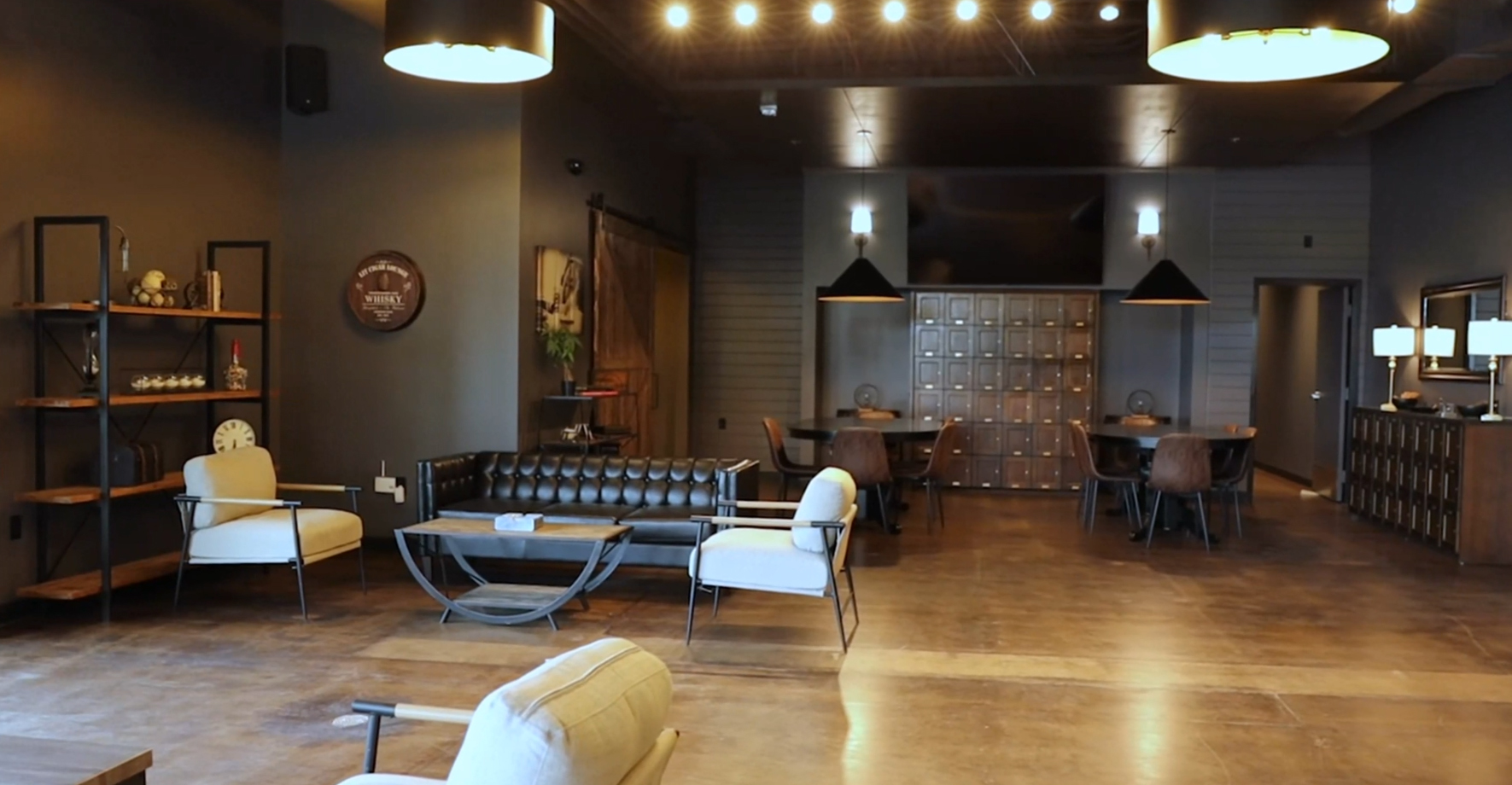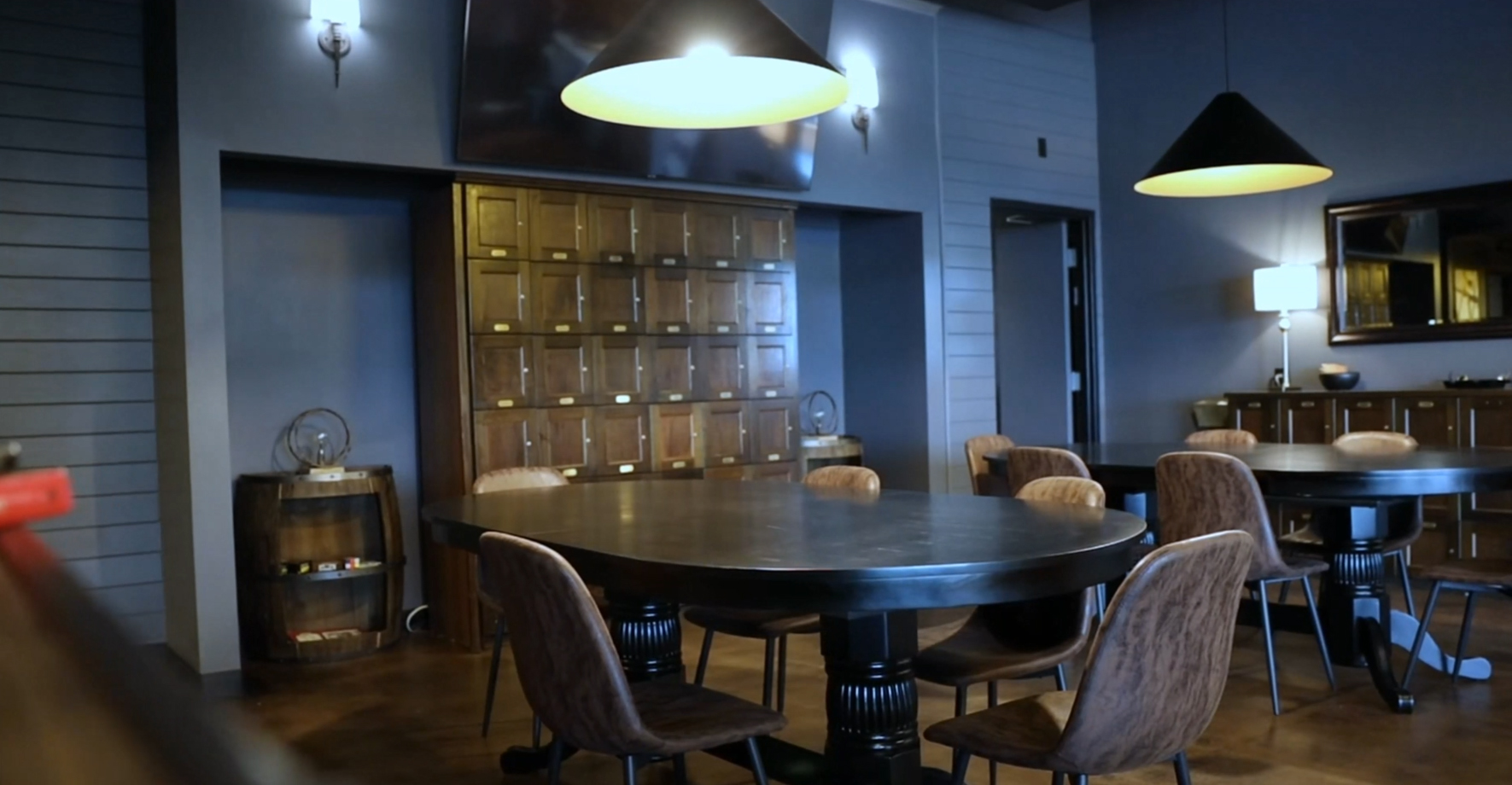 Chiodini Architects was honored to design the new LIT Cigar Lounge at The District. Nestled within St. Louis's premier entertainment district, LIT Cigar Lounge stands as a testament to refined taste. This exceptional space merges the timeless charm of a traditional cigar lounge with modern sophistication. From the moment guests step inside, they are enveloped in an atmosphere that caters to their desire for premium cigars, fine spirits, and casual conversation.
Large, inviting windows offer a glimpse into the opulent world that awaits within, beckoning passersby to indulge their senses. Visitors are greeted by an interior that exudes refinement and sophistication. The design concept revolves around creating a comfortable yet luxurious ambiance, where every detail has been meticulously curated to enhance the overall experience.
The interior conveys a sense of understated grandeur. The first thing that catches the eye is the stunning stained concrete floor, meticulously crafted to evoke the timeless appeal of worn leather.  Sleek black drum lighting fixtures hang from the ceiling, casting a soft, warm glow that enhances the intimate setting. The deep, rich peppercorn hue, carefully chosen for the walls, exudes a sense of warmth and luxury throughout the space. The combination of these elements creates a soothing environment that invites you to settle in and enjoy a leisurely smoke.
Natural materials also play a pivotal role in the lounge's design, with dark wood accents throughout.  Metallic paint highlighting the exterior of the walk-in humidor adds a touch of sophistication and glamour. Old-world, dark, wood lockers provide a secure and private space for members to store their cigars and accessories.
The heart of the lounge is the main seating area, designed to provide ample space for guests to relax and savor their favorite cigars. Plush leather armchairs and sofas, strategically arranged for both privacy and social interaction, invite patrons to settle in and enjoy the moment. The use of warm, earthy tones in the upholstery and rich wood finishes creates an atmosphere of warmth and intimacy.
A focal point of the space is a cool bar, boasting a quartz top that glistens under the soft lighting. The bar offers a wide array of whiskeys that perfectly complement the nuanced flavors of a fine cigar. Surrounding the bar are whiskey barrel tables, adding a touch of rustic charm and serving as conversation pieces for guests to admire.
For those seeking more than just a great smoke, Lit Cigar offers a poker gaming area, where friends can gather around the table, engage in friendly competition, and share their love for both cigars and cards. The carefully designed space provides ample room for players to enjoy their game while still relishing the camaraderie of fellow enthusiasts.
Recognizing the importance of maintaining a comfortable environment for cigar enthusiasts, Chiodini Architects incorporated a state-of-the-art ventilation system throughout the entire space. This system ensures optimal air quality, effectively dissipating smoke and providing a refreshing atmosphere for guests to indulge in their passion, comfortably.